Hey guys I just wanted to tell you that I watched this movie for the last two weeks. And you'd probably be wondering why I would write it now. Easy reason because I forgot and I haven't made a blog then so you know. Anyways the movie I watched is Jane Eyre (2011) which is played by Mia Wasikowska, Michael Fassbender, Jamie Bell and many other more actors, I just remembered this much because they're the famous ones so.. I mean like Mia Wasikowska played in Tim Burton's Alice in Wonderland which is like a hit and Michael Fassbender played in X-men First Class along with James McAvoy and Jennifer Lawrence, he is also known for his role in Inglorious Bastards(I haven't watched the movie yet, I'm not really interested at it) and also Jamie Bell played in Steven Spielberg's The Adventures of Tintin. The movie is directed by Cary Fukunaga.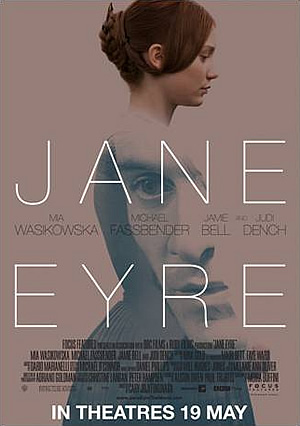 Anyways yeah great movie, great cast, great outfits(I really love traditional Victorian/Elizabethan dresses with all the corsets, ruffles, puffy dresses). Check out the trailer below if you are interested
If you have read the book which is written by Charlotte Bronte you'd probably know but for those who are unfamiliar about the book, the story follows a simple governess, Jane Eyre (Mia Wasikowska) who fell in love with her boss, Mr. Rochester (Michael Fassbender) and soon discovers that he is hiding a terrible secret. Okay guys don't freak out its not a thriller sort in fact it is actually a romantic drama. You guys should check this movie out its a very beautiful movie, the actors display their emotions really well and because I like Michael Fassbender so you know its just like wowww.... sorry for the fan girling....
The movie got like an average rating of 7.3/10 by Rotten Tomatoes so basically they gained many positive reviews from many famous movie critics website.
And also I just wanted to tell you that I also have finished the Jane Eyre novel and I just wanted to say that the Rochester in the movie and in the novel are so different. I mean like in the novel Charlotte Bronte described him to be not all good-looking while in the movie I think the director gave an improvement in the role because I mean guys its Michael Fassbender, he's awesome.
At the end I just wanted to tell you that it is a good movie and I don't know I just love Michael Fassbender that is all. If you would like to watch it you can go watch in the internet or you could buy or maybe rent the DVD or such and you can also even download it because the high quality is already probably uploaded by some person I don't know.