So HAPPY NEW YEAR GUYS! I haven't been blogging in a while. Well lots of things happened by now and as you can see this is going to be a long post.
So guess what I went to Hongkong-Macau-Shenzhen last year in December. Yeah I went there on the 30th of December but it was in the morning so yeahhh and the trip took 5 days and I was basically tired. Yup that is the one word I could describe. Anyways I spend my birthday in Macau, in the Venetian Hotel. Yeah not to brag about it, I basically don't find it nice which is weird, I mean the Venetian Hotel is kinda famous for being a five-star hotel, but you know everything is so expensive and I basically can't buy something interesting. And when I was in Macau, I just stayed inside the hotel, fortunately there was like a show, there were many performers so that is okay I guess?
But one thing I do like from my vacation is that I went to DISNEYLAND!!!! Yeah it may not be American or the french or even the japanese one but its still freaking disneyland. AND I FOR ONE LOVED IT!!! But I do really hope that I could go to the Orlando's or California or maybe even Paris disneyland. My favorite part of the trip is going there basically and never return here. Just joking. I do feel homesick actually alot but I love their transportation system in Hongkong. Its just so fast and efficient. I miss that about Hongkong. I love their MTR system its like basically like a monorail and I loved it.
There is one incident which is really funny that I could remember, its when we went to Ocean Park which is in Hongkong. Its basically an amusement park but it also has a zoo, an aquarium and some sorts like that. So while I was walking with my family, I saw the incident. Well this incident was so memorable that it got me thinking about it up until today.
So what happens is that there is this boyfriend and girlfriend or should we say the "couple", anyways while I was walking the girlfriend was crying and running and it looks like she was dumped by the boyfriend or should we say the jerk guy. Yeah and the guy was like confronting the girl and told the girl not to make an act in public. But the girl was crying and they went seperate ways and I never saw them again. Now I tried to follow the girl but you see Chinese people living there are just so quick that I am unable to follow her speed. So yeah that was the most interesting part of my trip after disneyland. But I still wonder whether the girl will still be upset or the guy may find a new girlfriend or they'll just reconcile again like most people do? I don't know, I'm just curious about love...
So if you want to know more about the Hongkong-Macau-Shenzhen trip you can go to my sister's blog at puddingme.blogspot.com. Basically she uploads all the details and yeah she is more artistic.
Moving on, back to school lots of assignments undone, and I am stressed that week. Now the one subject I am freaking out is management. Well, I was told to write an essay about corporate social responsibility. Technically by now I have already finished but see my work was returned by my lecturer because yeah he found that my work was mostly plagiarised, I mean I didn't put any citations there, so you know he told me to resubmit it again which I did but now I am so scared, I mean like how do we do this. I am just basically thinking about it and I get so scared when I think about anyways I don't want to think about it again.
So on the 25th of January dum-dum-dummmmm, I watched American Hustle, the movie I have been waiting for since last year. American Freakin Hustle. Yupp the one which stars Christian Bale, BRADLEY COOPER, Amy Adams and so on... yess I did watch it and I LOVED IT. I mean I do like it but I find Silver Linings Playbook to be much better its more of the feel-good movies and I love feel-good movies.
Bradley Cooper was so good-looking in the perm and everything he is in, I just love it. He rocked it. Although his character was kinda annoying but still he is my baby boy. And I always love my baby boy. All the acting was really good in this movie, the themes of this movie was also really good. And I love their soundtrack too. My favorite one is Long Black Road by Electric Lights Orchestra. Anyways guaranteed 9/10.
And let me tell you something about this movie, the movie is nominated for an oscar. The movie gets 10 nominations in the oscars, which includes, best picture, best director, best actor, best actress, BEST SUPPORTING ACTOR, best supporting actress, best original screenplay, best editing, and the others I forgot.. But you know what this means Christian Bale, Amy Adams, BRADLEY COOPER and Jennifer Lawrence are nominated for oscars in this role. Bradley Cooper is nominated for best supporting actor, I am sure he won't win but at least he gets nominated right which is really cool. He gets nominated twice in a row. Oh yeah and the director is David O'Russel and he directed The Fighter and Silver Linings Playbook so he basically combines the cast of The Fighter which are Christian Bale and Amy Adams with the cast of Silver Linings Playbook which are Bradley Cooper, Jennifer Lawrence and Robert De'Niro (yeah he made a brief appearance in the movie).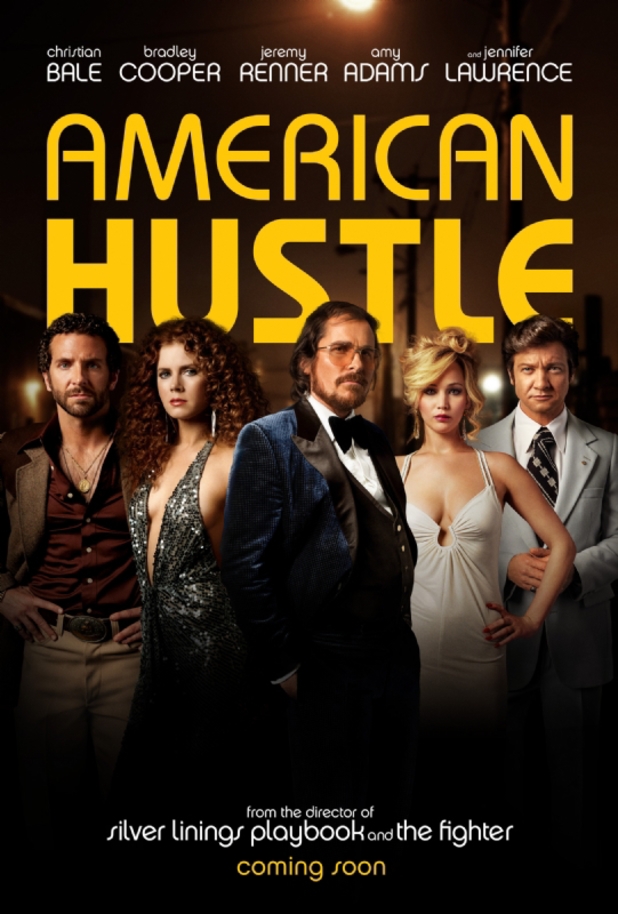 The movie is about a con-man (played by Christian Bale) and his mistress or partner in crime (played by Amy Adams) who is forced to work with an FBI cop (played by Bradley Cooper) to carry out an operation or some sort to corrupted politicians. Jeremy Renner plays the mayor of the town called Camden and Jennifer Lawrence plays Christian Bale's wife. Just watch the movie to get more details of the movie.
Now I want to talk everything about Bradley Cooper, so Bradley is going public with his girlfriend. I am not kidding here. He brought her to the SAG awards this year as his date. Eventhough they didn't show up at the red carpet but seriously she was there in the table with Bradley sitting next beside her. Ughhhhh, there are a lot of pictures showing them in the SAGs but you don't really want me to post it or else I could go nuts. And then moving on, after the SAGs does it stop? No....they went to Sundance together. And yeapp they were walking together like two little love birds. Apparently they went there to see the documentary by Robert De'Niro's late father who is a painter. And somebody from twitter also said that she saw Bradley and Suki watching Rachel McAdams's new movie. And then it continues again, see, they went to Justin Timberlake's concert and you know this is the first time I saw them lock lips in public. And Bradley apparently enjoys it. I am not gonna lie here, I saw the vid. Now Suki is back in the UK and Bradley is in LA going to the gym as usual. Hahaha there has been rumours too that Bradley is moving his house. I mean literally he is moving out from his LA house. So yeah I guess this is it for month January, I mean there is a lot of things going on with his life but see I am too lazy to type. huehehehe
So I watched a lot of movies too these 2 months including The Hobbit: The Desolation of Smaug, which is completely awesome. I am giving it like a 9/10. Then I watched Big which is an old movie and it was so good. I am giving it 9/10. Then I watched Mrs Doubtfire. Also a funny movie played by Robbie Williams. I'll give it an 8/10. I am not really satisfied with the ending though. Then I watched Dead Poets Society which was played by Robbie Williams, again its a really good movie. I'lll give it a 9/10. Then I watched Blue Jasmine, which stars Cate Blanchett and is directed by Woody Allen. To be honest this is one of my favorite movies directed by Woody Allen. I love the acting though. I am giving it an 8/10. Then I watched Julie and Julia. The movie stars Meryl Streep and Amy Adams. I love this movie too, I'll give it a 9/10. I also watched Rush which stars Chris Hemsworth and Daniel Burl and I love it so much. I'll rate it a 9/10. Then I watched this german movie called Goodbye Lenin and let me tell you it was so goood, the movie stars Daniel Burl and I think its a beautiful movie that should receive alot of recognitions. I'll rate it a 9.5/10. I think I may find 2 favorite foreign language films, the first being Amelie and the second being Goodbye Lenin. And lastly I finally watched Saving Mr Banks. As expected from the trailer, I knew this film is going to be good and you know what it did. I think this is like my favorite movie of 2013. I'll give it a 9.5/10.