Hi guys, you know as I come to have realised with my life, the only thing that I love the most is gotta be my WI-FI (nope just kidding its gotta be food) well, I realised it yesterday and you know without wi-fi I am not able to do anything, man....technology these days huh...I'll tell you more about what happened later..so I am going to tell you what I did from wednesday to today.
Wednesday...4th September 2013
So on Wednesday, me and my friend Ie Hoei(who is from MIBTi) went to watch a movie in Plaza Semanggi. Yup we watched The Mortal Instruments: City of Bones for only Rp 25000. How awesome is that right. So I went from my house to Semanggi at 10.20 a.m. and I arrived to the mall at 11.17 a.m. Since I use Transjakarta as my mode of transport, I came across lots of people, one in particular, actually its a couple, an Indonesia guy and his gf or a 'lady' friend, a caucasian. And why I want to mention this is that, they are talking in a language in which is not English. My guess is that they are talking in French or Dutch or even German. I don't know hahaha but its very rare to see an Indonesian guy these days to speak a foreign language other than English. I mean that was kinda impressive you know. So anyways moving on, I arrived to the mall right, and I was in a tired and sweaty condition and so I just like walk around the mall and get myself cooled as well as I am waiting for my friend at the same time. I wanted to check where the cinema theater and I did, it was on the 5th floor. Now when I reached the 5th floor it was kinda easy going up, but going down was a bit difficult and confusing. So I have to go around one whole floor of the mall. I see a lot of stuffs though. And then I met up with Ie Hoei, and we bought the ticket together. After that we bought milk tea to relieve ourselves. The movie starts at 12.45 p.m. and I gotta be honest because I drank my milk tea before the movie, during the whole movie, I felt like I have to go to pee. You might ask why I don't go out and pee instead, well, I never like doing that ever, first is because I wanted to know what happen with the movie and second reason is that I am lazy to go out of my seat. Anyways I have to hold my bladder for 1.5hrs. The movie was mehh, I would rate it a 6/10, and that is being generous okay...I do like this one guy, he plays Magnus Bane in the movie, he is played by this Taiwanese actor, Godfrey Gao and let me tell you he is so HOTTTT, he is like my favorite Asian actor ever, I do like some asian actors like Song Seung Hun but you don't want me to get started on that. And also I love Lily Collins, I think she played the role very well and the guy playing her best friend, Robert Sheehan. They are both great in the movie. Likeable and awesome. So after the movies, we decided to look around the mall, and we spend like about 30-40 minutes going around the mall. And then I have this a matcha honey toast in ropan. Yummm....
GODFREY GAO
Matcha Honey Toast delish, it costs about Rp 30000
I so wanna have this right now but look at that deadly price label....
In the movie, The Mortal Instruments, there is one song which I sorta like, well its actually love not like and this song is sung by Demi Lovato and its called Heart by Heart and its really beautiful, check it out guys..
Thursday....(0 O 0) 5th September 2013
I consider this day to be very unlucky. From morning until night seriously not even joking. In morning, I got a stomach ache and so I decided to go to the toilet to poo. And it kinda used my time. So I came late to school. And then when I was about to head home, I saw a mouse or a rat or some sort rat-mouse thing which I am deadly afraid. And its not dead or anything but its still alive. So when I saw the rat, I kinda screamed to the top of my lungs and scared everybody surrounding me including my friend and a couple of women passing by. I think I saw some people laughing at me but I was really scared of mice or rats. And then when I used the Busway to head home, there was a riot dealing with the inflation rate and the increased cost of things, and there was not even a single bus allowed to pass through the coridoor. At first I didn't believe so I went for it but it was true so you know I headed back to my school again. And I was kinda sweaty and tired condition and afraid if there were any mice going to pop out again. I kept caution. HAHAHA, anyways I went home with my mom's friend using the taxi, and the traffic was sorta bad. Anyways I reached home at 3.00p.m, and there was a blackout in my house. Geeezz...Then my mom scolded me for not opening my cell phone. And then the wi-fi went off for no reason. So yeah the whole day was so badd. And I slept at 8.30 p.m. until 6.50 a.m in the morning.
Friday...6th September 2013
So the wi-fi was still off and it still won't turn on. Well that sucks right so I decided to ask the customer service through twitter, and they responded, so I was kinda busy dealing with the whole wi-fi stuff instead of accounting stuffs. So after accounting class finished at 1.30 p.m, I decided to eat with my friend, I was starving from morning. So I ate something first and then went home. The road was in a great traffic. You know using the bus wasn't much a big deal for traffic but well the bus didn't move. Great thing is that I have a seat in the bus for the whole traffic. But seriously it took me 2hrs to go home today. I finished eating at 2.00p.m and arrived at home at 4.00p.m. Oh and one crazy incident today, there was a motorcycle which is about to be almost hit by the bus I was riding. It was pretty crazy. The man driving the bus was yelling to the person riding the motorcycle. The great thing about today is that my wi-fi is fixed, the man came, and helped to fix it, it turns out the modem was a bit of in error. So great now I can play the internet.
GUESS WHAT BRADLEY COOPER WAS IN SPAIN!!!! He was in Spain to promote his movie The Place beyond the Pines. He looks so hot....
And then he appeared in this Spanish show called El Homiguero
So handsome right...I can't believe he is 38 years old
And now I think I heard from twitter he left Madrid, I think he is heading to the UK and this means one thing: HE IS GOING TO MEET SUKI WATERHOUSE. I don't know if he is going to do that but that is my guess and my assumption so yeahh...this sucks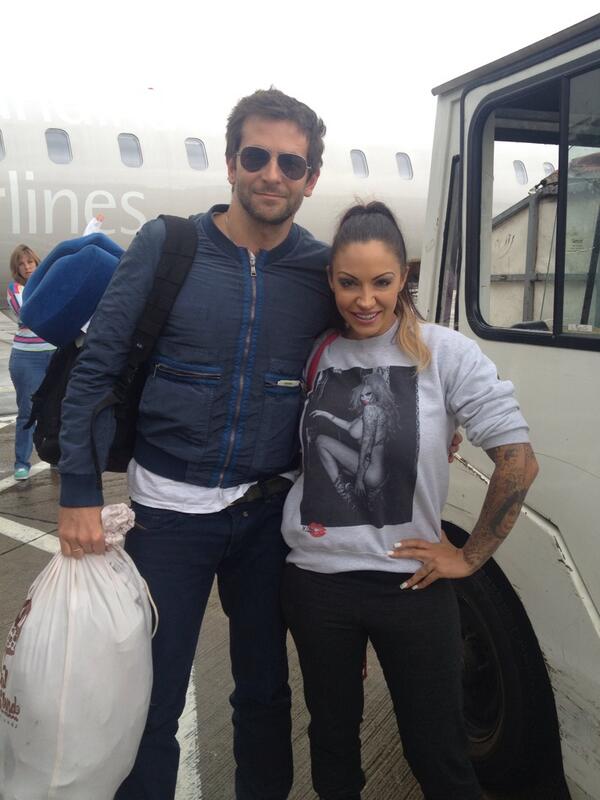 The girl is Jodie Marsh, I have no idea who she is but she is so lucky to be in the same flight with Bradley Cooper, and I am so J-E-A-L-O-U-S...And why does Bradley keep wearing the same jacket? You might think why I think he is in the UK right now, well the girl is from the UK so I think she must have travelled from Spain and decided to head home in the UK.
I have been watching some movies lately and the movie which I think was so good was Good Will Hunting. The movie stars Matt Damon, Robin Williams, Ben Affleck, Casey Affleck, Minnie Driver and Stellan Skarsgard. Awesome movie. I would rate it a 9/10. It was enjoyable, I love the characters, they were strong, and I think the screen writing was really good. Gotta say that I love Robin William's performance, guess he deserves the oscar right. You guys should check it out.
Another movie that I watched was Shaun of the Dead. I freaking love this movie. The movie is directed by Edgar Wright. It stars Simon Pegg and Nick Frost. Let me tell you guys that Simon Pegg and Nick Frost were AMAZINGGG!!! Totally hillarious and I love everything in this movie. I would rate this movie 9/10. It was enjoyable, its the type of movie which you can watch a lot of times without getting bored. Totally worth to watch.
Next movie that I watched was Hot Fuzz, same director like Shaun of the Dead and the same actors who are Simon Pegg and Nick Frost. Hot Fuzz was also hillarious but I do still prefer Shaun of the Dead. Anyways I'll rate this movie 8/10. After watching Shaun of the Dead you guys should check Hot Fuzz because its also awesome too.
I also watched this movie called The Breakfast Club and Sleepless Seattle, both movies are equally good. For The Breakfast Club, I would rate it 7.5/10 and for Sleepless in Seattle, I would rate it 8/10. Tom Hanks is really funny in Sleepless Seattle and I also like Meg Ryan's character, she is so beautiful.
I think that is it for today. See you tomorrow. BYE